The Spillover Effect of State Immigration Policies
11 Mar
by Foster, on News
U.S. federal immigration law has not kept pace with the swiftly changing needs of the country and its immigrants. Since 2000, several attempts at comprehensive reform have fizzled out, leaving the door open for states to legislate—particularly on the issue of illegal immigration. But while these state laws are meant to restrict or expand rights for the undocumented population, they can end up affecting others, too, according to a new report by the RAND Corporation, a policy think tank.
Here's Lynn A. Karoly, a senior economist at RAND, via a press release:
"There is starting to be some evidence about who is affected by these policies beyond those who are the primary targets," Karoly said. "There have been cases where the impact may spill over onto authorized immigrants and naturalized or native-born U.S. citizens."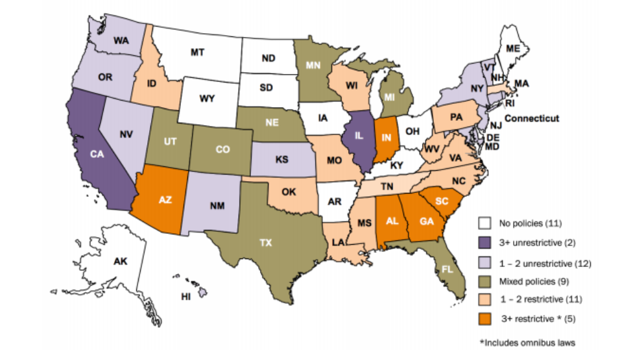 As is evident from the map above, a majority of states have enacted not one but multiple policies addressing undocumented immigrants. Some are favorable to immigrants (in purple), and some aren't (orange). A handful of states (olive green) have passed a mix of both.
Many states have laws requiring employers to check the legal status of prospective employees via the E-Verify system, a policy that makes it harder for the undocumented to get a job. Here's a map from RAND showing which states have adopted this system in some form (orange) and which have enacted policies limiting its scope (purple):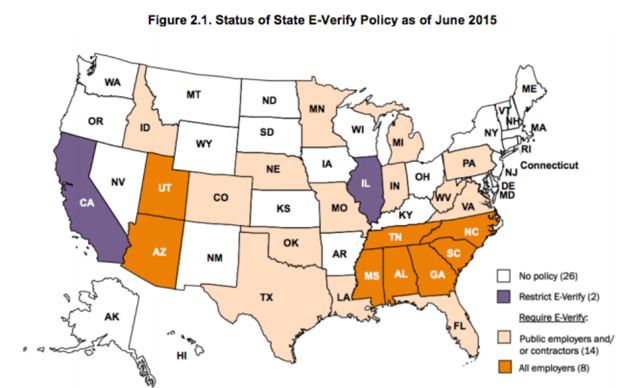 On the flip side, policies giving undocumented residents the right to education (below, top), driver's licenses (middle), and health care (bottom) help the undocumented live better. Here are RAND's maps on what states have enacted policies expanding these rights: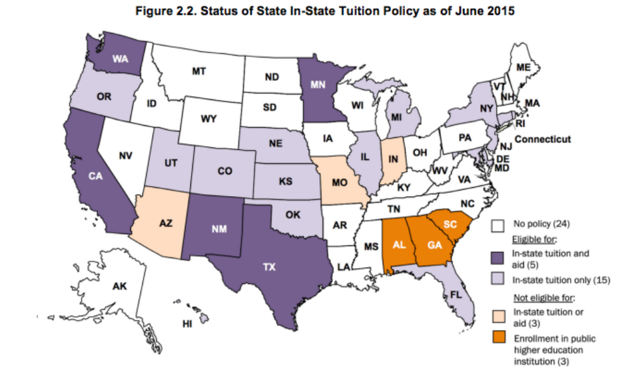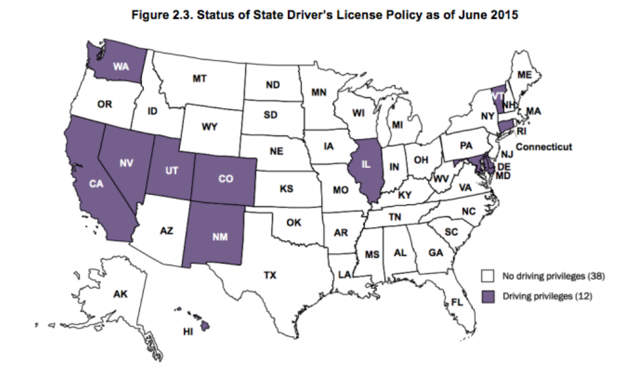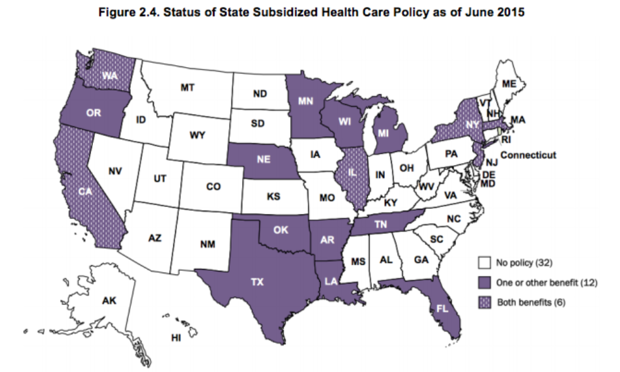 These laws matter to everyone
The authors of the RAND report find that, currently, "states rarely examine the costs and benefits of such policies before enacting them," according to the press release. So they designed a framework to do just that.
The report shows that restrictive policies might lead to wage gains for some non-immigrant groups within the state, if they succeed in decreasing the number of unauthorized immigrants in that state. But such laws may cause a decrease in economic output as well. After Arizona's anti-immigration laws caused its undocumented population to drop, for instance, some workers benefited but the state's economy overall "took a hit," The Wall Street Journal reported.
The RAND report finds that restrictive legislations also have other negative effects on a state. E-Verify systems can lead to a drop in employment for U.S. citizens as well, "potentially because of decline in labor demand," the report says. Harsher policing of immigrants can be harmful for other groups, too. It can lead to feelings of social exclusion among naturalized immigrants and U.S.-born children of unauthorized immigrants, which in turn results in less participation in safety net programs like Medicaid, reduced civic engagement, and an unwillingness to report crimes. Immigration enforcement at a local level requires resources and personnel, and might distract local police from other law-enforcement goals.
Positive legislations, such as in-state tuition for undocumented immigrants, might displace native-born students if education subsidies are limited (although studies cited by report show that's not very likely). But more education for immigrants mean they're likely to earn higher wages, which in turn means economic output for the state and a lower burden on state benefit programs.
The bottom line is that there is no bottom line. These negative and positive effects on the undocumented and other populations of each law in each state haven't yet been quantified. Using the framework outlined in this report, state governments can take a step beyond partisan rhetoric and back their arguments for or against these laws with numbers.
http://www.citylab.com/politics/2016/03/rand-report-undocumented-immigrant-state-policy/472833/